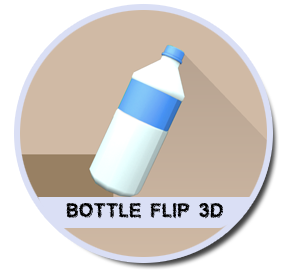 Bottle Flip 3D
How about playing a bottle flip challenge? The game which you can play at this page is called Bottle Flip 3D and it is the remake of the original challenge. In this puzzle game your mission is to make the bottle flip towards the finish line. There are a lot of obstacles on your way - a TV, different boxes and other things in the living room. Your bottle can make a flip and even double flip. The levels of the game are pretty simple but they become difficult as you progress. In higher levels you will need all your skills to complete difficult quests and overcome various obstacles. Enjoy the full version of the Bottle Flip 3D for free.
---
How To Play Bottle Flip 3D?
The gameplay is pretty simple - you have to click the mouse right button to make the bottle flip. In higher levels you will need double flip to overcome big obstacles - in this case you should click the mouse right button twice. Your gaming progress is saved at out website so you can always continue playing it later.
Can I Bottle Flip 3D On Smartphone?
Of course you can. You can download the game for free at Google Play and Apple Store and enjoy it for free.
Copyright © TheImpossibleQuiz.LoL. All rights reserved | Game copyrights belong to their respective owners or authors.